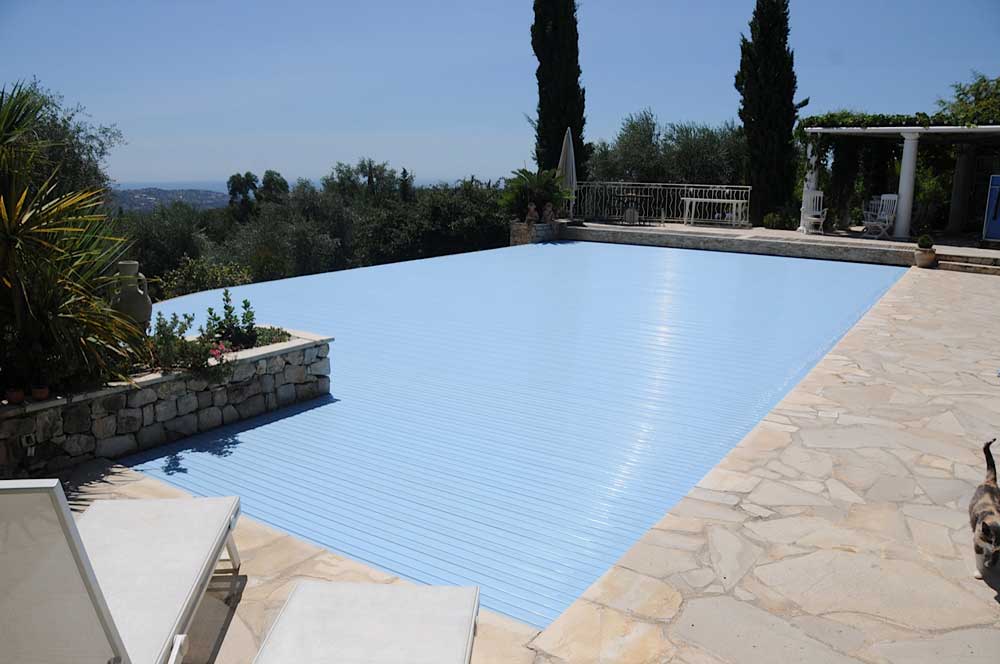 Roller pool cover
The roller pool cover is an enclosure that combines practicality and linear design with minimal impact on the surrounding landscape. Its versatility translates into the ability to adapt to all forms of swimming pool, whether new or undergoing renovation or modernisation: the multi-patented materials make possible the combination of aesthetics and functionality that has always characterised Abritaly products.
The versatility and modern design of the roller pool cover are perfect not only for infinity pools, but also for above-ground pools, guaranteeing the required safety and considerable savings on pool maintenance. The opening and closing system, available in the motorised version, offers the possibility to quickly protect the pool while maintaining the elegance of "Made in Italy" products.
Create your own custom design
Thanks to the versatility of the roller cover, it is possible to create a completely customised design, choosing from the Junior model, with raised or submerged casing, as well as numerous materials and colours. The automated cover opening and closing system will make your project even more convenient.
The huge variety allows you to choose among the discreetness of the Junior roller cover, the elegance of the raised bench casing and the invisibility of the submerged roller cover. For over 40 years in the sector, Abritaly has been committed to constant research into materials and tools to guarantee maximum convenience and functionality: an expert from the team personally takes care of each project, with the sole aim of meeting the client's practical and aesthetic needs.