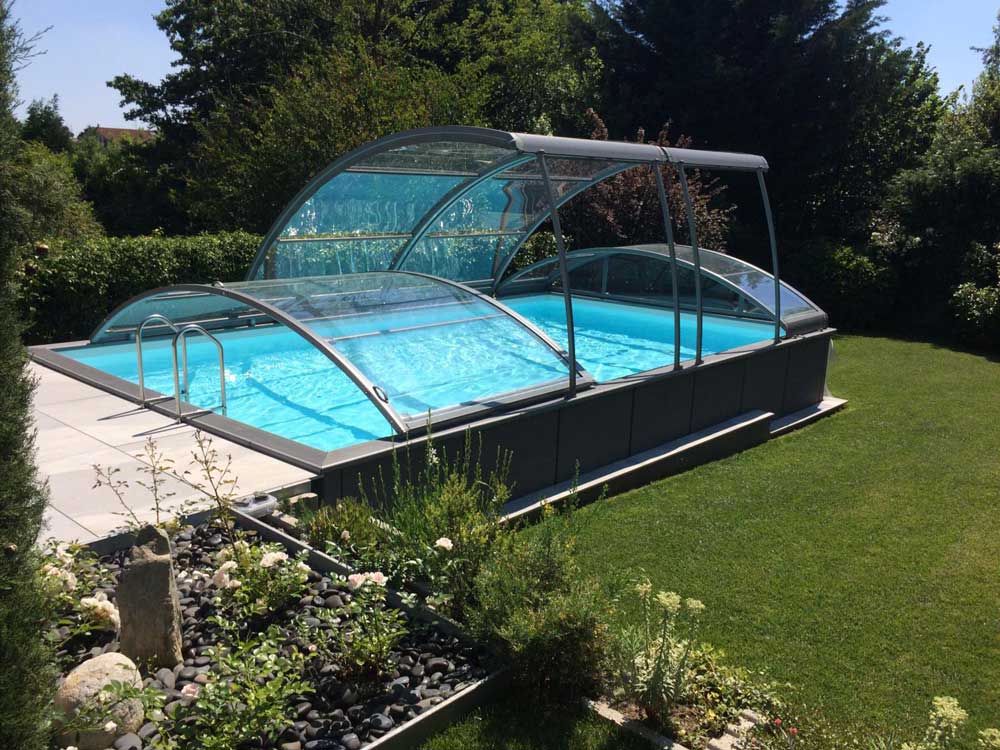 Above-ground pool enclosures
The above-ground pool enclosure is the ideal solution for protecting your pool all year round: its rigid covering in a multi-patented material makes it your best ally against the elements, ensuring safety and comfort.
Removable and laterally liftable, the above-ground pool enclosures adapt to any shape of pool ensuring high performance with a minimalist design. The choice of high-tech materials allows the enclosure to maintain water temperature, reduce maintenance costs and guarantee the safety of those who use it. It also significantly reduces the number of times it is necessary to clean the pool.
This configuration with its clean and elegant lines adapts to the needs not only of private individuals, but also of hospitality facilities thanks to the possibility to make the most of the pool space in comfort, both in summer and winter.
Above-ground pool enclosure with functional, high-quality design
Abritaly's above-ground pool enclosure not only complies with safety regulations but also guarantees the safety of bathers by protecting them from UV rays. The ease of use, the durable and patented materials as well as the elegant design that does not sacrifice functionality, make this configuration very successful on the market.
The attention to detail and modern design that have characterised Abritaly for over 40 years are reflected in the choice of high-tech materials and the possibility of fully customising your project. Relying on an expert from the team, you will be guided through the choice of the numerous above-ground enclosure options including hydraulic jacks and the installation of an entrance door: the after-sales service will accompany you to the completion of the installation with professionalism and discretion.
Above-ground pool enclosures