Perfect solutions
for your home
Having a swimming pool in the garden is a common aspiration for many people because it is a symbol of relaxation, health and fun. The dream of transforming one's home into a real oasis of peace is becoming increasingly common, and in fact, more and more families are completing their home with an outdoor swimming pool, giving their family and friends unforgettable moments.
Large or small, the swimming pool is where you can freely relax, refresh, read or simply enjoy beautiful sunny days or cool summer evenings, alone or with company.
Having a swimming pool in the garden, however, requires continuous, intensive maintenance that can never be neglected, especially before using it. You have to clean it, especially if the night before there was a storm or a strong wind that filled the pool with leaves and insects; you have to wait for the water to warm up before entering it; you have to be careful that your children do not risk falling into it while playing ... What a chore this pool is! Wasn't it just supposed to give us moments of relaxation and fun?
If you want to enjoy the pool experience without stress and really create your own corner of paradise, there is one solution: an enclosure! A suitable enclosure can solve many large and small problems, from the point of view of both cleaning and protection.
With the right enclosure, your pool will always have clean water without you having to make an effort or worry too much; you will protect the water from any external agents and, last but most importantly, you will be relaxed and protected from the safety point of view.
That is why the demand for enclosures is constantly increasing, especially for products of proven quality. From this point of view, enclosures by Abritaly are fully qualified. It is the European leader in the sector and manufacturer of the best-selling enclosures in Italy, with thousands of installations registered every year.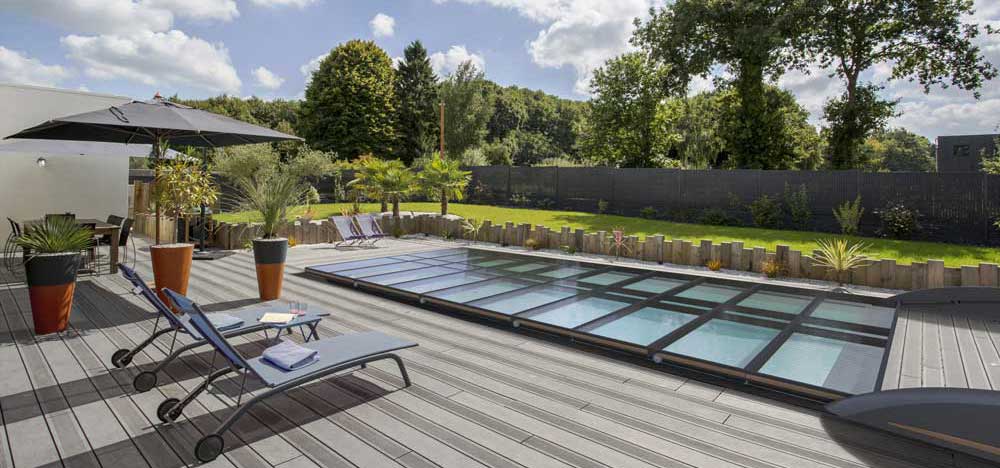 Abritaly creates made-to-measure solutions, offering a complete range of products to make any pool safe: from low to high enclosures, from aluminium to wooden enclosures, passing through roller covers which can be submerged or suitable for above-ground pools, to unique pool enclosures such as Coverseal.
Another example of very popular enclosures is the Minimal line, a valuable ally when you want to avoid accidental falls, especially of children and pets, but without compromising the surrounding environment thanks to their elegance and their harmony with the surrounding landscape.
Choosing a Minimal enclosure means enhancing your garden with an aesthetically pleasing but above all safe element; you will be able to have fun without worries and let your children play without danger.

There is a completely different concept behind the low enclosure from the Basic range. The latter arises from the need to extend pool use beyond the warmer months. The Basic range combines functionality and aesthetics and, not surprisingly, the sliding model of this particular product is the best-selling enclosure.
The Comfort and Relax enclosures, on the other hand, are the best way to transform the pool into a real living space: a comfortable space that can be used all year round. With a high enclosure, the pool becomes an extension of the house: a convivial place in which you can relax regardless of the weather conditions outside. With these enclosures, you get a real extra room, which is particularly enjoyable when placed in green surroundings. Outdoor pool enclosures are an indispensable accessory for those who want effective pool protection, for those who love to always have clean water at the right temperature, for those who want to reduce maintenance times - with consequent economic savings - and for those who put the safety of their children first. So, in a nutshell, if you have a pool, you need an Abritaly covering.