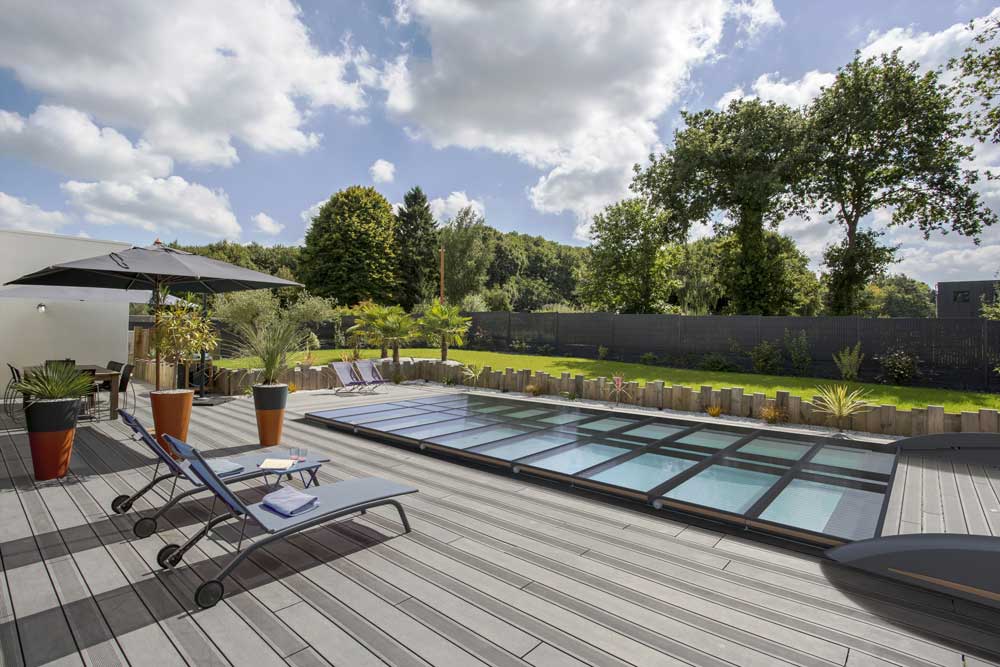 Motorised enclosures
Our motorised enclosures are the ideal solution to protect your pool at any time, even from a distance. The structure, made of high-tech materials, allows automatic opening and closing thanks to a rechargeable remote control or a simple key.
Protecting your swimming pool with an automatic enclosure has never been so simple and convenient: for example, thanks to the isothermal enclosure for in-ground pools, the water temperature is preserved, resulting in a significant reduction in maintenance costs. In addition, the use of multi-patented materials and the minimalist configuration typical of our electric enclosures for in-ground pools guarantee maximum discreetness and optimisation of space, while maintaining high safety standards for children.
The efficiency and practicality of the motorised model find application not only in flat coverings but also in ultra-low, low and medium telescopic enclosures, as well as in semi-high Cristal or twin-wall polycarbonate models. The motors can be powered by photovoltaic panels, using low voltage and storage batteries.
Motorised pool enclosure with functional and elegant design
Abritaly's motorised pool coverings can be adapted to different solutions - from slatted pool enclosures to flat or low pool enclosures made up of stacked modules - that can adapt to any type of pool and minimise the aesthetic impact on the surrounding environment. Thanks to the attention to detail and the ergonomic and elegant design, the optimisation of space is guaranteed. In addition, this type of configuration complies with current regulations and helps to ensure the safety of bathers even when operated remotely.
Our experience of more than 40 years in the sector has given rise to the winning combination of electric swimming pool enclosures and children's safety, embodied in careful study of materials and in the lines of Italian design. The resulting convenience and ease of use make these solutions among the most successful on the market.
Abritaly will support you through 360° during the realisation of your project by allocating an expert who will personally accompany you throughout the entire process (from concept to final testing): the result is a highly technological, functional, high-performance motorised swimming pool enclosure with a "Made in Italy" design.