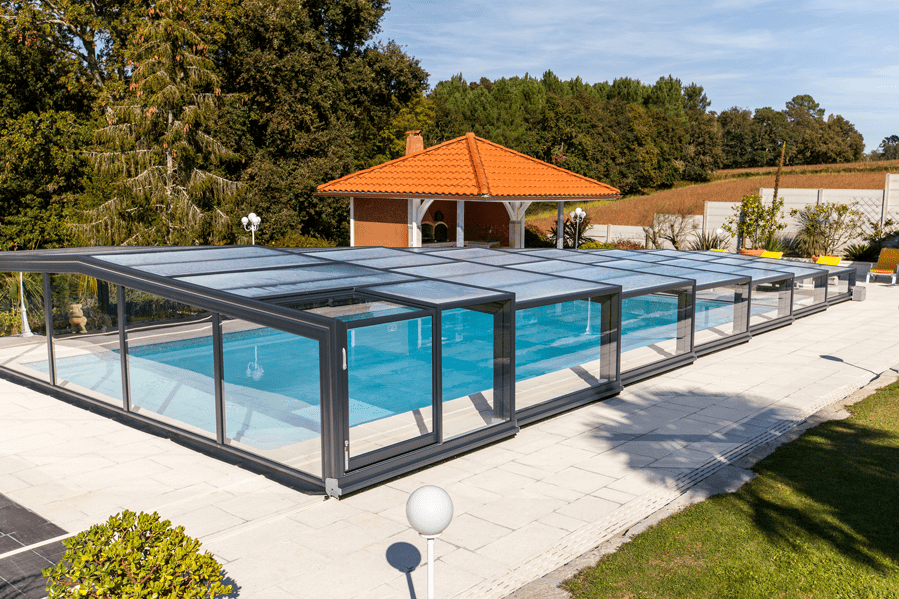 Glass enclosures: transparency and high-tech materials
Glass pool enclosures combine the refinement of materials with the possibility of utilising the structure all year round. The versatility of glass, with its characteristic transparency and the ability to adapt to many surfaces, ensures that enclosures in this material are attractive and suitable for many contexts.
Minimalist design and clean lines characterise both the small and large glass pool enclosures, creating a stylish and light-filled environment. Glass pool coverings represent a distillation of technology thanks to the use of tempered glass.
The versatility of glass enclosures
This configuration is particularly useful in environments where you want to minimise the environmental impact or, in the case of telescopic glass pool enclosures, to make the bather's experience more enjoyable.
Moreover, the durability of the material justifies its use in various contexts. Not only does it allow you to enjoy the view of the water when the enclosure is extended, it also protects the pool from the weather, which reduces maintenance costs. The use of tempered safety glass is a great advantage because the glass can withstand heavy loads and fully complies with the applicable regulations for swimming pools open to the public.
When this material is used for glazed swimming pool enclosures, thanks to its transparency, it adds brightness to the environment and provides users with a special experience.
Abritaly, with over 40 years in the sector, has invested in research and patents on materials to guarantee its customers the maximum durability and optimum aesthetics of its products. In this context, it offers you the possibility to fully customise your pool enclosure project by providing an expert member of the team who will guide you through every step of the construction process.