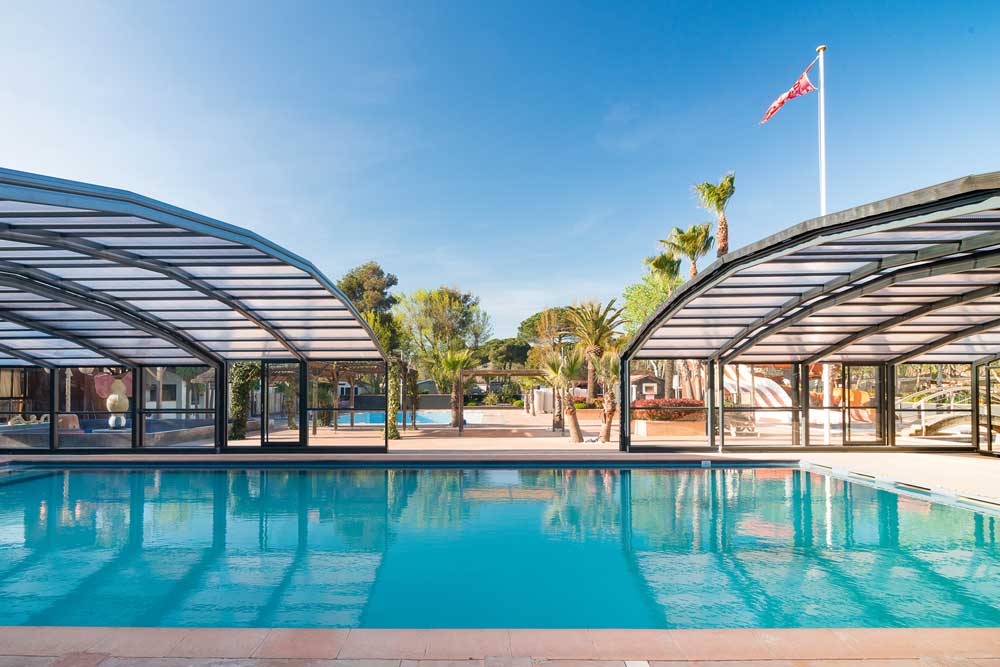 There are many ways to make a business flourish
Do you want to have an extra boost for your business?
Do you want to give your guests the best possible welcome?
Do you want to surprise them with that extra detail that makes all the difference?
It takes very little to capture the interest of customers and convince them that they have done the right thing in choosing your property. The secret lies in giving the right emphasis to every space, not forgetting the garden and the swimming pool, which have always been strong points of any hospitality complex - not only in spring or summer but in every season of the year.
Every hospitality property (hotel, B&B, camping, etc.) with an outdoor swimming pool is certainly very much appreciated by all its guests, young and old. So why not make the most of the opportunity and use it at any time of the day, at any time of the year, thus increasing business opportunities?
Providing the pool with an enclosure is the ideal solution to allow customers to swim even during the evening or cold or rainy days. Swimming pool enclosures can maintain a constant temperature, reaching up to 28 degrees, in a completely natural way.
In addition to keeping guests happy, it is also possible to guarantee them maximum safety: swimming pool enclosures are the safest way to avoid accidental falls into the pool, by children or animals. When the "pool area" is closed, it is not necessary to monitor the space, because the pool is protected by the enclosure (in some cases also locked with a special key).
Constant temperature and safety::
two huge customer benefits.

Reduced maintenance and cleaning costs::
a great advantage for the property.

Customer satisfaction and happiness:
another great advantage that allows you to increase profits.
At Abritaly we recommend visiting our website and focusing on the Comfort and Relax lines: perfect for keeping the swimming pool sheltered, guaranteeing a space where you can spend fantastic moments having fun or relaxing.
Indoor swimming pool in winter and outdoor in summer.
Statistics show that accommodation facilities increase their annual bookings by between 30% and 40%.
Many campsites, hotels, B&B's and restaurants have already relied on us to cover swimming pools up to 25 m wide in every part of Italy: in the mountains, on the hills, by the sea. Our enclosures are resistant to heavy loads (snow) and wind gusts and protect against UV rays. All you have to do is try them!